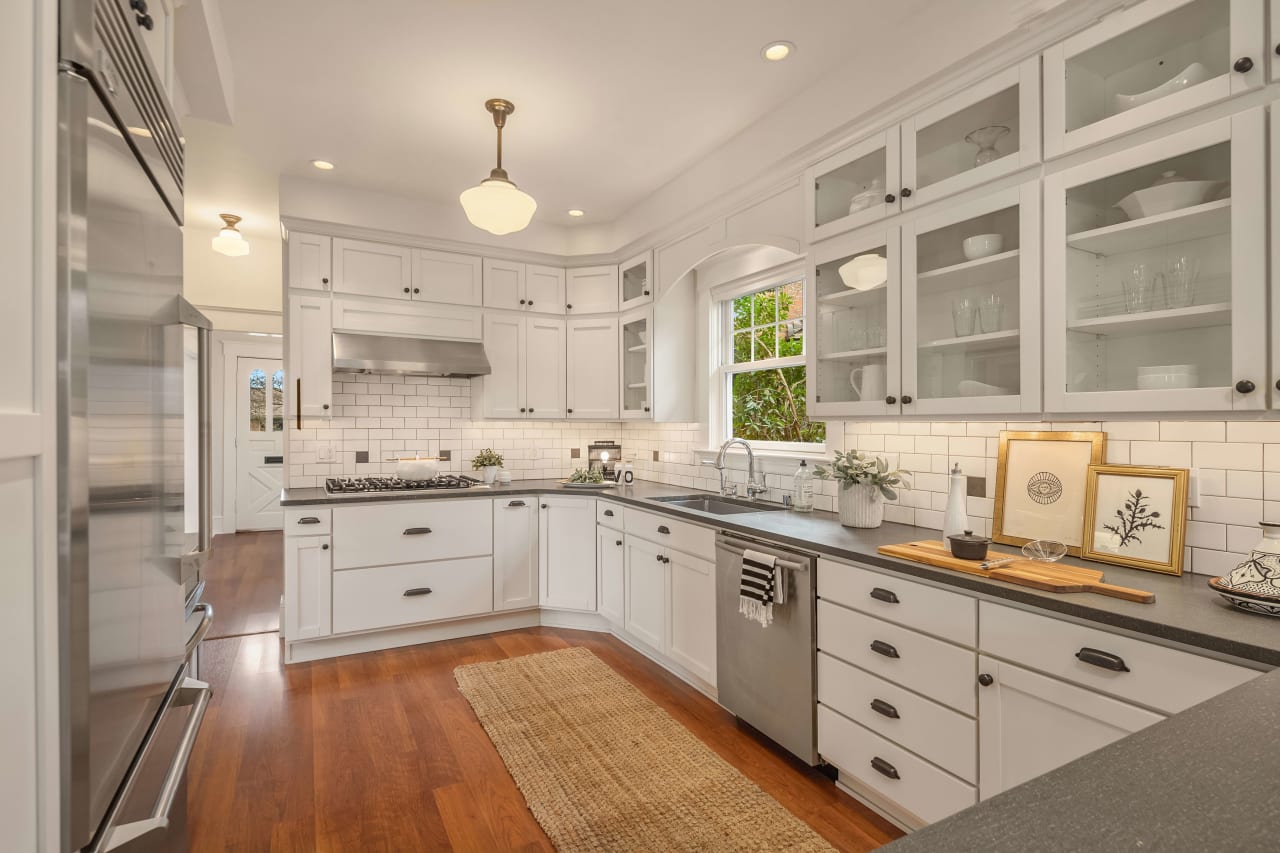 ​​​​​​​AFTER MONTHS OF MARKET PREP AND CAREFUL POSITIONING, MY QUEEN ANNE LISTING SOLD IN MARCH DURING PEAK MARKET CONDITIONS FOR 20% OVER ASKING ($2,585,00).
My market reviews are broad and high-level. Drop me a line if you'd like me to take a closer look at your micro-market, or to receive these market updates delivered to your in-box.

​​​​​​​I'm careful to avoid over-emailing, and only send out communications quarterly, at most. That's a promise.
For monthly mini-market updates, follow me on Instagram or Facebook!

I post 1-minute videos showing a snapshot of all the key stats each month.​​​​​​​
There's a lot of content here! Feel free to scroll to any of these headlines:
Seattle + Eastside Market Recap
​​​​​​​The Latest Numbers
​​​​​​​Looking Ahead: What Now & What Next?
What all this means for YOU
Seattle + Eastside Market Recap
Through the Spring of 2022, our region's white-hot seller's market continued to intensify. During this period, the Eastside continued to outdo Seattle, with some of the most dramatic bidding wars, and annualized price appreciation of over 20% for many homes.
This has been going on for two years, and couldn't last forever. Let's remember: before COVID we were already in a seller's market. Then the pandemic hit and catapulted us into a surprise 'Super Seller's Market'. As of June, 2022 we are finally cooling back down a bit, and seeing some of our inventory markers returning to early 2019 levels. A while the Eastside led the charge up, it is now leading the charge down (see the charts below). Here are the main factors slowing our market:
Rising interest rates, after years of record lows
A falling stock market, after two years of record returns
Inflation across multiple purchase categories
Exhausted buyers!
Meanwhile, there are still factors in play that keep the market strong.
The ongoing strength of the tech sector that fuels a big chunk of our local economy. This will likely never go away. Whether the world is doing well or poorly, we will continue turning to tech and online services and platforms, as a global society.
The relative security of the high-paying jobs required for people to afford our region's high-priced homes (contrasted with the insecurity of lower-paying jobs held by most renters)
A pre-existing housing shortage that was 10 years in the making (builders exited the market after the collapse of 2008, and home building slowed to a trickle for nearly a decade while population continued to rise). In fact, if builders pull back now, as interest rates rise and a recession is forecasted, this housing shortage will be exacerbated.
Locally, our region is increasingly viewed as a relative refuge from climate change, compared to many areas of the country.
The Numbers (Q2 2021 vs. Q2 2020)
The following data is for properties under $5 million, since the large prices of a few homes can skew overall market data. For information on how the $5 million-plus market is performing, please contact me. Spoiler alert: it's done very well.
Price Trends
SEATTLE SINGLE FAMILY HOMES: Average Price per Square foot up 11.8%. Median Sale Price up 11.7%
EASTSIDE SINGLE FAMILY HOMES: Average Price per Square foot up 23.8%. Median Sale Price up 23.1%

Price appreciation is where we see the dramatic split that continued between the Eastside and Seattle over most of the first half of the year.
SEATTLE CONDOS: Average Price per Square foot up 9.3%. Median Sale Price up 10.4%
EASTSIDE CONDOS: Average Price per Square foot up 19.2%. Median Sale Price up 19.8%
In year 1 of the pandemic, Eastside condos mostly held steady while Seattle condos dipped. In 2021, Eastside condos continued to mostly hold steady, while Seattle condos recovered. In the first half of this year, both markets gained ground, but Eastside condo prices accelerated at twice the pace of Seattle condos.
Market Times
SEATTLE market times (how long it takes a listing to sell, on average) were at 11 days. This is compared to 19 days for the same period in 2021.

​​​​​​​EASTSIDE market times were at 7 days. This is compared to 10 days for the same period in 2021.

List to Sale Price Ratios
On average, sellers got 107% of their list price in SEATTLE, compared to 105% in 2021.

​​​​​​​On the EASTSIDE, sellers got 106% of their list price compared to 109% in 2021.

Inventory and Sales
AVAILABLE: Seattle Single Family

Q2 2021 - 735
Q2 2022 - 942
Available inventory was up 28.2%
SOLD: Seattle Single Family

Q2 2021 - 3437
Q2 2022 - 2529
The number of closed sales was down 21.3%.
AVAILABLE: Eastside Single Family

Q2 2021 - 282
Q2 2022 - 1055
​​​​​​​Available inventory was up a dramatic 274.1%. Most of that jump occurred in May and especially June as the interest rates climbed to 6%.
SOLD: Eastside Single Family

Q2 2021 - 2610
Q2 2022 - 2141
The number of closed sales was down 18%. Even more dramatic, pending sales, which are the leading edge of the market, dropped 27.3% compared to the same period a year ago.

AVAILABLE: Seattle Condos

Q2 2021 - 580
​​​​​​​Q2 2022 - 602

Available inventory was up 3.8%.

Q2 2021 - 1060
Q2 2022 - 1059
AVAILABLE: Eastside Condos

Q2 2021 - 161
Q2 2022 - 257
Available inventory was up 59.6%

Q2 2021 - 922
Q2 2022 - 672
Closed sales were down 27.1%.
Micro Markets Matter
As always, different neighborhoods, price and property categories usually perform differently. Whenever you have a question, need or curiosity about your own situation, please don't hesitate to reach out.
Looking Ahead: What Now & What Next?
While the world has too many complex feedback loops to project how things will be with reliable accuracy, here's my perspective.
Below are the factors I believe will place upward and downward pressure on the market for the rest of this year. Overall, I think the "down" will outweigh the "up" over the next few months, and we will continue to see a cooling of the residential sales market in the Seattle area in the second half of 2022.

THIS DOES NOT MEAN THE MARKET WILL "CRASH"! We have been in an extremely rare market the past 2 years, artificially fueled by uniquely pandemic-related stimulus money, economic and social conditions.

As we move into a post-pandemic reality, we are necessarily seeing a re-balancing of the market. However, the underlying economic fundamentals of the greater Seattle area remain very strong, we still have a housing shortage writ large, and even as prices decline a little, owners still have large gains compared to 2-3 years ago. So while we are definitely coming down off white-hot status for real estate, I think we are seeing something more like a return to pre-pandemic "strong market" levels of activity (think 2018-2019) than like the 2009 slide that led to multi-year lows.
Holding the Market Up
Inventory is still low; just not as low as it has been. We still have a housing shortage across many price points, in many areas. I just looked at inventory numbers comparing now to 10 years ago…we are still 37% below those levels, today. Bringing forward something I shared in the last market update blog post, The Washington State Department of Commerce commissioned a study that revealed we rank last in the nation in the ratio of housing units to existing households. And the Puget Sound Regional population is expected to grow by an additional 55,000 people per year from now to 2050. With all our water, we also have a shortage of buildable land. Against this big-picture backdrop, demand is likely to remain strong in our region. And here's a national statistic for context: Freddie Mac estimates that the US is short 3.8 million housing units to keep up with household formation, a deficit that has doubled from 2012 to 2019. In that time, supply worsened in 47 states.
Stock market gains. You read that right. While recent big losses off stock market highs are pushing the real estate market down, in the bigger picture, many investors still have roughly 20% gains compared to where they started the pandemic. We are richer than we were 2 years ago, even with these recent losses.
Our tech companies are richer and still hiring. The large tech companies that provide so much fuel to our local economy have grown wealthier as a result of the pandemic; these jobs are not at risk.
Climate change makes Seattle attractive. As this tragedy unfolds, more people from other regions of the country, and world, will migrate towards the Pacific Northwest's relatively mild and temperate climate.
Pushing the Market Down
The big story here is rising interest rates. We knew rate hikes were coming but did not anticipate they would be as dramatic as they have been (from below 3% to hovering around 6% in the space of 6 weeks). And the Fed says more hikes are on the way. This is cooling the market, no question.
Stock market losses. Everyone who has stocks or stock options is feeling less rich than they were in January.
Worries about recession. We all hear it every day on the news; inflation is high, stocks are down, interest rates are up, the war in Ukraine and ongoing climate-related disruptions are impacting global markets and we have a Covid-stimulus hangover. Fear makes buyers more cautious, even when they can afford to buy.
Affordability. Interest rates are one factor in affordability; obviously prices and people's incomes are others. So far there have been enough well-resourced buyers to keep the pressure on Seattle area markets, even as prices have risen. Spring this year saw more leaps and bounds in price appreciation; so by now it really is time to let a little air out of those tires. But against a backdrop of properties appreciating on average 20%+ in Seattle and up to 40%+ on the Eastside over the past 2 years, if we now have to give back 5% to 10%, property owners (like stock owners) are still sitting on substantial net gains coming out of the pandemic years.a study
What All This Means for YOU!
Buyers and sellers: take a deep breath and remember why you're thinking of doing this in the first place. How important are the greater life goals you seek to accomplish with the move you're contemplating? Maybe this is the perfect time to move forward; maybe it's not. I regularly help people discern this. My commitment is always to support you in making your best choices, whether that means you move now or 10 years from now. The main thing is not to just sit with what you hear on the news or see on Zillow, but to reach out so we can have tailored conversations specific to your actual situation, needs, micro-market context and considerations.
Sellers
Yes, you can still do well! In transitional markets more than ever, each property, each micro-market, and each target buyer group is evolving at its own rate, in its own way (which you would never know from the meta-averages you hear on the news). It is critical to get professional analysis and perspective early in your thinking and planning process. Clear-eyed, current data and careful market approach strategies are everything, to position you for success.
Over my 25 years in the business, I've navigated boom, bust and transitional markets. I know how this works, and I'm armed with strategies for maximizing your results in any market condition. Reach out and let's talk. And never feel it's "too early to call Scott". I'm happiest and can add the most value the earlier we're in conversation. Many of my buyers and sellers start talking with me 1 to 3 or even more years before they actually make a move. I'm here for you. Take advantage of the free advice!
Buyers
Opportunities to get a home with less or even no competition are finally here again! Interest rates are up, but some prices are coming down a little as well. And rates are projected to go higher, so this is a good time to jump in. Also bear in mind, many mortgage experts are predicting lower rates again within 1-2 years, so refinancing for better rates should become an option before too long. Meanwhile, when rates go down again, prices will go up again.
As with sellers, my biggest note for you is to reach out so we can strategize! Again, each price range and area is behaving a little differently right now. Some sellers remain unrealistic, while others are offering great deals. It's a complex market to navigate, but I can help you find the rose among thorns…or just decide if it's right to start, pause, or delay your search right now.
Thanks for Reading!
However the rest of 2022 unfolds, you can be assured I stand ready to help you explore, clarify and achieve your own particular real estate goals with customized strategies that consider market conditions through the lens of your unique needs and situation. Be sure to get in touch early, if you're thinking of buying or selling, or just want some advice on home improvements or future plans and dreams. The more you involve me in those early conversations, the more I can do to help you achieve your goals in the best possible way for you. And I'm always happy to give free advice on all things home and home strategy!